All Pathways Lead to Home
Annabelle Asali, B.Arch '23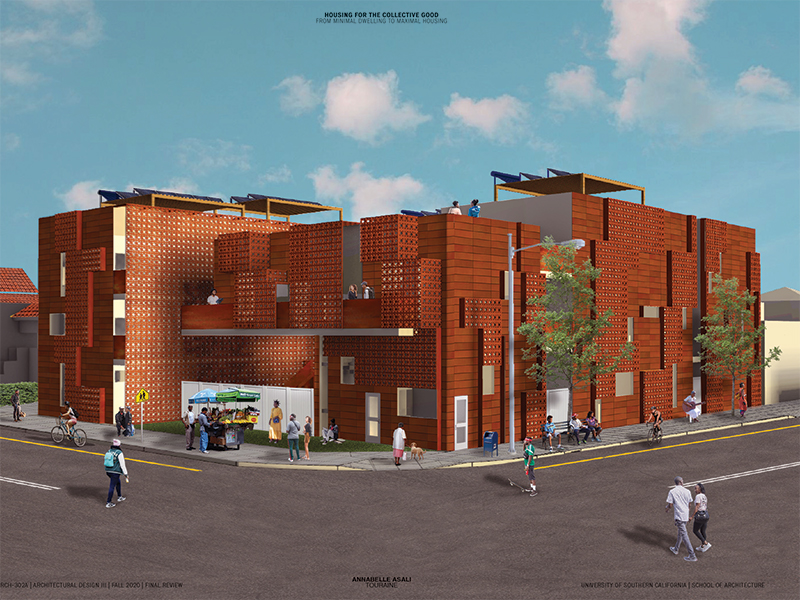 Level: undergraduate
Discipline: Architecture
Instructor: Olivier Touraine
Leimert Park, a cultural hub for many of their black residents, is home to many unique historic, artistic, and cultural souls. To continue passing down the cultural traditions of this neighborhood, I designed a cooperative housing complex in which residents participate in a local education center geared towards helping bridge language and subject gaps for children, teens, and adults who may lack resources in the surrounding neighborhood.
As circulation is bridged between 4 individual forms, there are tiered courtyards that act as both the route to take to your home, and to utilize open spaces in this complex. To balance the simple organization of the units, the exterior spaces are arranged as rectangular planes that shift and slide in alignment. The external facade system reflects continual movement of planar arrangement through the use of a terracotta rain screen/brise-soleil and corten steel shades reinforces the idea of wrapping around these shifted windows, created a growing pattern and thus delineating a change in material.
No matter what direction you take, the various directions from the stairs, or following the shading system to the top, this cooperative serves to support its members reach their goals by creating different pathways to feeling at home within Leimert Park.