Your gift to USC Architecture is essential to our ability to provide an extraordinary education for the next generation of architects and design leaders. There are many ways to give, and we hope you will choose one that is meaningful to you.
GIVE ONLINE
MOBILE GIVING
Text "arch" to 41444
MAIL YOUR CHECK
USC Advancement Gift Services
1150 South Olive Street, 25th Floor
Los Angeles, CA 90015
Please make checks payable to "The University of Southern California." Please indicate your area of support within USC Architecture on the memo line of your check.
The University's tax ID number (EIN) is: 95-1642394
Annual Giving
Gifts to the USC Architecture Annual Fund allow the School to provide extraordinary opportunities for learning and discovery; to extend the financial aid program to every student who needs it; and to help meet emerging needs and challenges. Your generous support is an investment in the future of the School of Architecture, making possible increased diversity and excellence in students and faculty, expanded global programming and heightened expertise in contemporary urbanism.
Join the USC Architectural Guild
For more than 60 years the USC Architectural Guild is representative of alumni and non-alumni architects and professionals from the design-build industry who have a passion for USC Architecture and a desire to invest in the next generation of citizen architects. Through volunteerism, mentorships, philanthropy and corporate sponsorship, Guild members contribute personally and through their firms, planning two major fundraising events to support scholarships, student services and professional development. For more information about how to become a member or to renew your membership, please click here.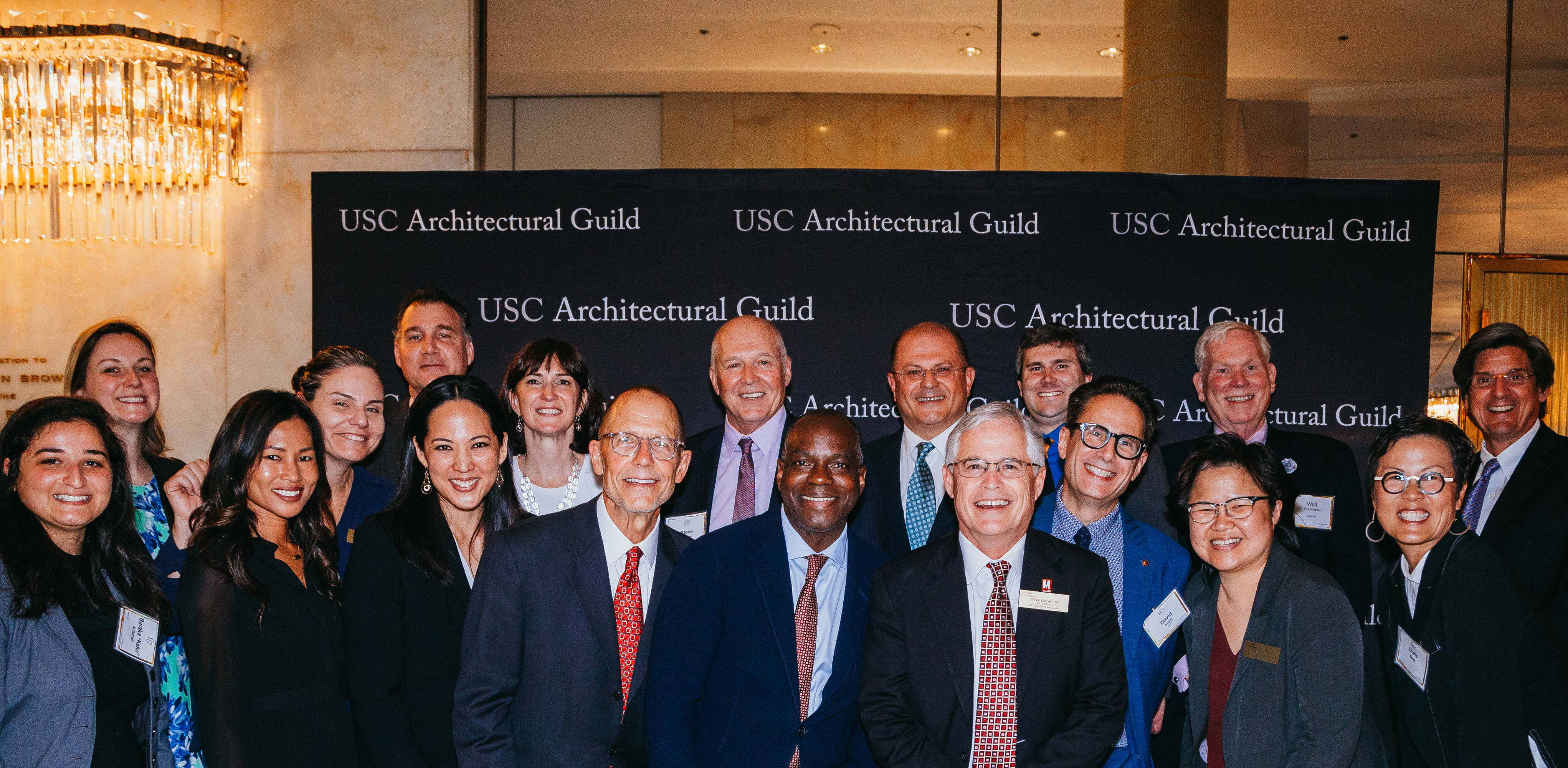 Major Giving
Special and significant philanthropy is vitally important to the School's ability to advance its strategic priorities. USC Architecture partners with many private and public entities, working with foundations, government organizations and individuals, to support all aspects of the School's programming, capital projects and operations.
For more information about ways in which you can make a major impact on the future strategic vision for the School, please contact Kirsten Peterson Johansen at (213) 821-5402 or email kirstepj@usc.edu.
Planned Giving
Create a lasting legacy for future generations of design enthusiasts through a planned gift to the USC School of Architecture. By including the School of Architecture in your estate plan, you provide a vital source of capital and endowment income to ensure that the School can continue its mission to educate, inspire and empower many generations of architecture students.
If you have made plans to include a bequest to USC Architecture or would like assistance in planning your gift to the School, please call Kirsten Peterson Johansen at (213) 821-5402 or email kirstepj@usc.edu. We want to personally thank you, ensure that we can accommodate your wishes and welcome you as a distinguished legacy donor to the University. All information will be held in strictest confidence.
For further information, or to arrange for a confidential consultation, please visit the USC Office of Planned Giving or call (213) 740-2682.