11/03/23 USC NOMAS CHAPTER TAKES THIRD PLACE AT 2023 NOMAS DESIGN COMPETITION: Championing a Brighter Future for Albina's Black Community
Last month, the USC Architecture National Organization of Minority Architects (NOMAS) Chapter won third place, among 39 contenders, at the 2023 NOMAS Design Competition in Portland, earning a cash prize of $1,000.
This year's NOMAS competition centered around designing a cohesive site for The Williams & Russell Project, a restorative justice project that addresses systemic injustices against Portland's Black community in the Albina neighborhood. This area, historically a thriving hub for Black culture, politics, and social life, was unjustly affected by urban renewal in the 1970s for an expansion for Emanuel Hospital (now Legacy Health). Many Black American-owned homes were seized to make room for various development projects, displacing a significant part of the community. Discriminatory housing policies and gentrification further exacerbated the situation.
As part of the competition, the USC Architecture NOMAS Chapter team, comprised of students from the graduate and undergraduate Architecture program, and Master of Landscape Architecture + Urbanism program, were challenged to restore Albina by designing a cohesive site that encompasses mixed-income housing, commercial/retail tenants, and community spaces with an emphasis on providing a solution that simultaneously sustains and grows the community.
"It's been incredibly gratifying seeing the USC NOMAS team flourish. Our presence as an organization supports student minority voices in a field that historically lacked diversity. Our success in this competition is a testament to how amazing the USC Architecture program is," stated USC Architecture student and NOMAS Chapter leader Eric Yu. "There has been incredible support of minority representation not only in the students but also the faculty at USC. As a result, there is an amazing diversity of knowledge that is researched, presented, and taught in the program—from technological advancements to social justice design. In addition, there is a culture of collaboration in the program, reflected in our NOMAS competition project. Having a project that was a fusion of architecture, landscape architecture, social justice, historic research, and activism was our strength in the NOMAS competition."
Competing teams were challenged to articulate comprehensive strategies to restore Albina's identity and foster diplomacy between Legacy Emanuel Medical Center and the community. The competition guidelines stipulated that the project should encompass a mixed-income residential development featuring commercial, retail, and community spaces, and actively contribute to addressing the city's housing shortage by offering market-rate, affordable rental, and homeownership opportunities. In essence, the competition urged teams to propose a design solution that not only navigated the site's development toward a just and joyful future, but also sought to restore a piece of the historic Black American Commercial district in Portland.
"The rigorous training and mentorship provided by the instructors at USC played a pivotal role in preparing our team for the design competition. The meticulous attention to detail during studio reviews instilled in us a profound understanding of the intricacies involved in design," noted team member Mackenzie Bower. "We consistently grappled with the nuances of part-to-whole relationships, the profound meanings embedded within our designs, their viability, and the potential for real-world application."
USC Architecture NOMAS Chapter's winning project titled "Growing Forward: Planting Generational Roots," aims to foster intergenerational connections by reimagining history and promoting interactions among different age groups. Notably, the project documents the historically Black Eliot neighborhood, not only within the library but also through the murals created by Daren Todd. Todd's artwork is dedicated to preserving the rich history and significance of the Black community in Portland. Through a combination of residential spaces, green courtyards, urban forests, gardens, and retail programs, Growing Forward strengthens the bonds between generations, ensuring the enduring resilience of Eliot's legacy.
"I am proud to be a part of this team of talented architecture students. USC Architecture establishes a positive workspace culture for us to communicate, collaborate, and explore in designing advanced creative solutions that contributed to our success," said Terrance Philips, USC Architecture student and NOMAS Chapter team member. "Excellence is not only marked by our skills. It is also marked by the foundation and evolution of our social dynamics and representation in the education of architecture."
The modular design of the complex creates spaces where different generations can live alongside one another, fostering connections through landscape programming. Two playgrounds and a basketball court are interconnected with the rose garden through an outdoor community plaza, promoting interaction between younger and older generations. The steel rails in the plaza pay homage to Portland's black railroad workers. Additionally, the urban forest, gardens, and kitchen provide healthy meals and job training opportunities, while bike paths connect with public transportation systems. The project also features a variety of retail and makerspaces, allowing for unique community entrepreneurship. Through these interconnecting programs, "Growing Forward: Planting Generational Roots" establishes a root system that ensures the enduring legacy of Eliot.
To learn more, visit nomasusc.wixsite.com.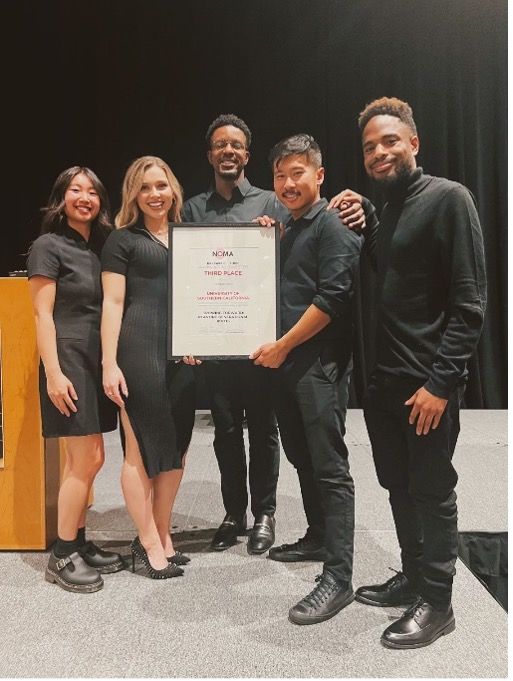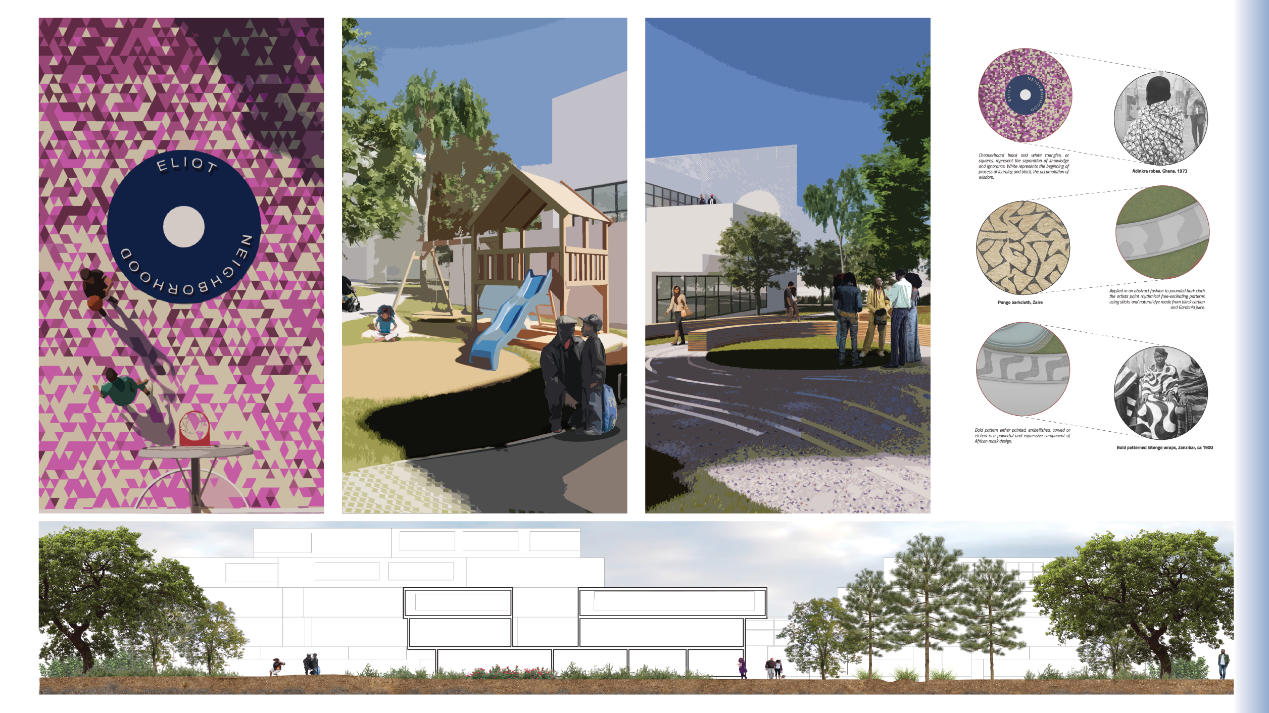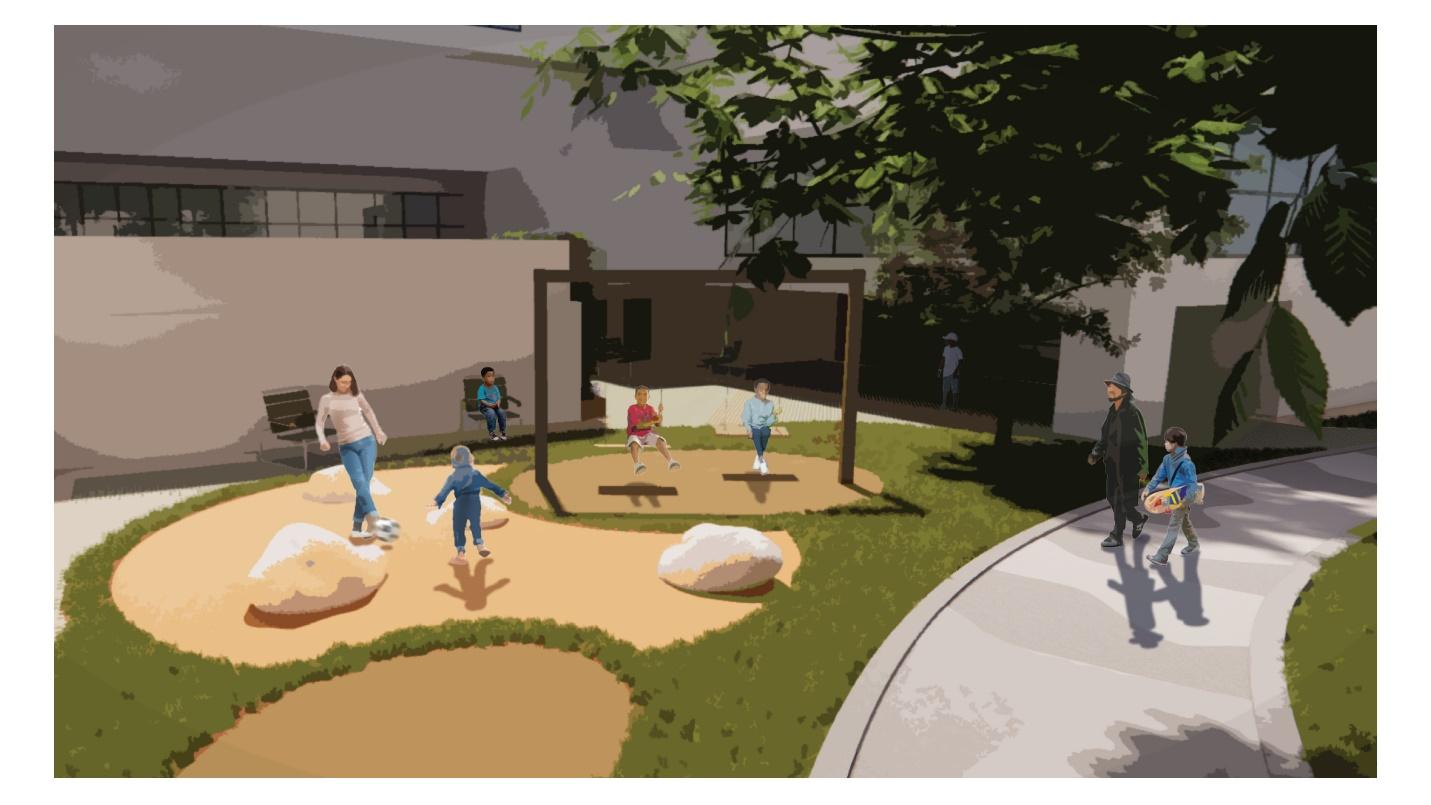 Latest News