02/05/20 USC Architecture Announces Honorees for 61st Annual USC Architectural Guild Dinner
For the first year ever, the program will celebrate four honorees on April 22
USC Architecture announced today the four recipients of this year's 61st Annual USC Architectural Guild Dinner awards, which will be presented on Wednesday, April 22, at the Dorothy Chandler Pavilion in Los Angeles.
Alumni Maria Warner Wong, '87 and Wong Chiu Man, '88 will be honored with the Distinguished Alumni Award, and alumnus Arthur Danielian, '63, FAIA, will be presented with the second annual Lifetime Achievement Award. Wayne Ratkovich has been selected to receive the third annual Distinguished Business Leadership Award. The first-ever Citizen Architect Award, a new award this year that honors leaders who help solve design challenges for the public good, will be presented to Zena Howard, FAIA.
"This year's honorees represent exceptional architectural thinking and business acumen that combine incredible design projects with thoughtful social impact. They are united in the local focus yet global reach of their work," said Milton S. F. Curry, dean of USC Architecture. "We are so pleased to honor these talented professionals at our annual event that helps support student scholarship and programming, directly benefiting the next generation of architecture and design leaders."
Distinguished Alumni Award
Alumni Maria Warner Wong, '87 and Wong Chiu Man, '88, who lead the international multidisciplinary consultancy firm WOW Architects | Warner Wong Design, are the USC School of Architecture's first couple and international residents to receive the Distinguished Alumni Award. They have received multiple international awards including the Singapore Institute of Architects building of the year, Prix Versailles, LEAF Awards, SBID Awards, and AHEAD Awards. Their dedication to craftsmanship and sustainable design can be found in projects such as the St. Regis Maldives Vommuli Resort, Vivanta by Taj – Whitefield in Bangalore, and their competition-winning design for the Mandai Eco-Resort in Singapore.
"The USC School of Architecture is the cornerstone of our professional education and the reference point for our culture of excellence. We are deeply honored to be recognized as distinguished alumni, especially as the first partnership and leaders of an international firm to receive this award," said Maria Warner Wong and Wong Chiu Man, who each received their bachelor of architecture at USC.
Lifetime Achievement Award
Alumnus Art Danielian, '63, FAIA, is the founder and chairman of Danielian Associates Architecture + Planning. Danielian is an internationally recognized expert in innovative housing design. He has been honored with the Max C. Tipton Award, the Rodney Radom Memorial Award, and was the first architect to be inducted into the California Homebuilding Foundation Hall of Fame. In 2019, he was selected as a Legend of Residential Marketing by the National Association of Home Builders and the National Sales & Marketing Council and Person of the Year by the Building Industry Association of Southern California's Council on SAGE. His firm has provided planning and architecture services to 44 states and 15 countries worldwide, creating well over 1 million units of housing, including custom homes, multifamily housing, mixed-use, affordable housing, senior communities, transitional housing for U.S. military veterans, master-planned communities, and much more.
"I am extremely honored to be the recipient of this year's Lifetime Achievement Award," said Danielian, who also received his B.Arch at USC. "The USC School of Architecture, professors, and deans truly shaped my career and my passion for the built environment. The strong foundation I received there was the springboard for my 50+ year career in the field of residential architecture."
Distinguished Business Leadership Award
Wayne Ratkovich is the founder and CEO of The Ratkovich Company, a Los Angeles development firm that works to improve the quality of urban life. Recent projects include the development of The Bloc, a $250 million transformation of the former Macy's Plaza in Downtown LA, as well as The Hercules Campus, an 11-building complex of former Hughes Aircraft Company Buildings with historic status. Ratkovich is currently developing a 42-acre waterfront site in San Pedro. In total, Ratkovich has developed over 18 million square feet of office, retail, industrial, and residential properties.
"In a now lengthy career in real estate development, my gratitude to architects for the contributions they have made to our success has grown with each year and each project," said Ratkovich. "More importantly, it is the work of architects that is improving the quality of life in our city and for that, we should all be grateful. To be honored by the Guild and the University is a touching tribute from a group I deeply admire. I think our roles should be reversed!"
Citizen Architect Award
Zena Howard, FAIA is a principal and managing director of the North Carolina practice of global architecture and design firm Perkins and Will. Howard is an award-winning architect known for her culturally significant projects, including her work on the Smithsonian Institution's National Museum of African American History and Culture on the National Mall in Washington, D.C. Her current work includes the expansion of the Motown Museum in Detroit, Michigan, and the Destination Crenshaw Project, which will create a new black Los Angeles monument and outdoor art and culture experience on Crenshaw Boulevard. Through her work with private and public institutions, Howard works to engage disenfranchised stakeholders, unite disparate parties, and infuse cultural meaning into all her projects.
"I am impressed by the USC School of Architecture's concern for social advancement and sustainability," said Howard. "It's my honor to be the inaugural recipient of the Citizen Architect Award. I would like to thank Dean Curry and the USC Architectural Guild for this recognition and for cultivating the educators and future designers needed to create positive change in the built environment."
The event promises to be a memorable celebration of the more than 60-year partnership between the USC School of Architecture and the USC Architectural Guild. Funds raised support scholarships, global fellowships, mentorship, career development, and more for USC Architecture students regardless of their financial situation.
To purchase tickets or sponsor a table, click here.
Related Links: RSVP: 61st Annual Guild Dinner, About the Annual Architectural Guild Dinner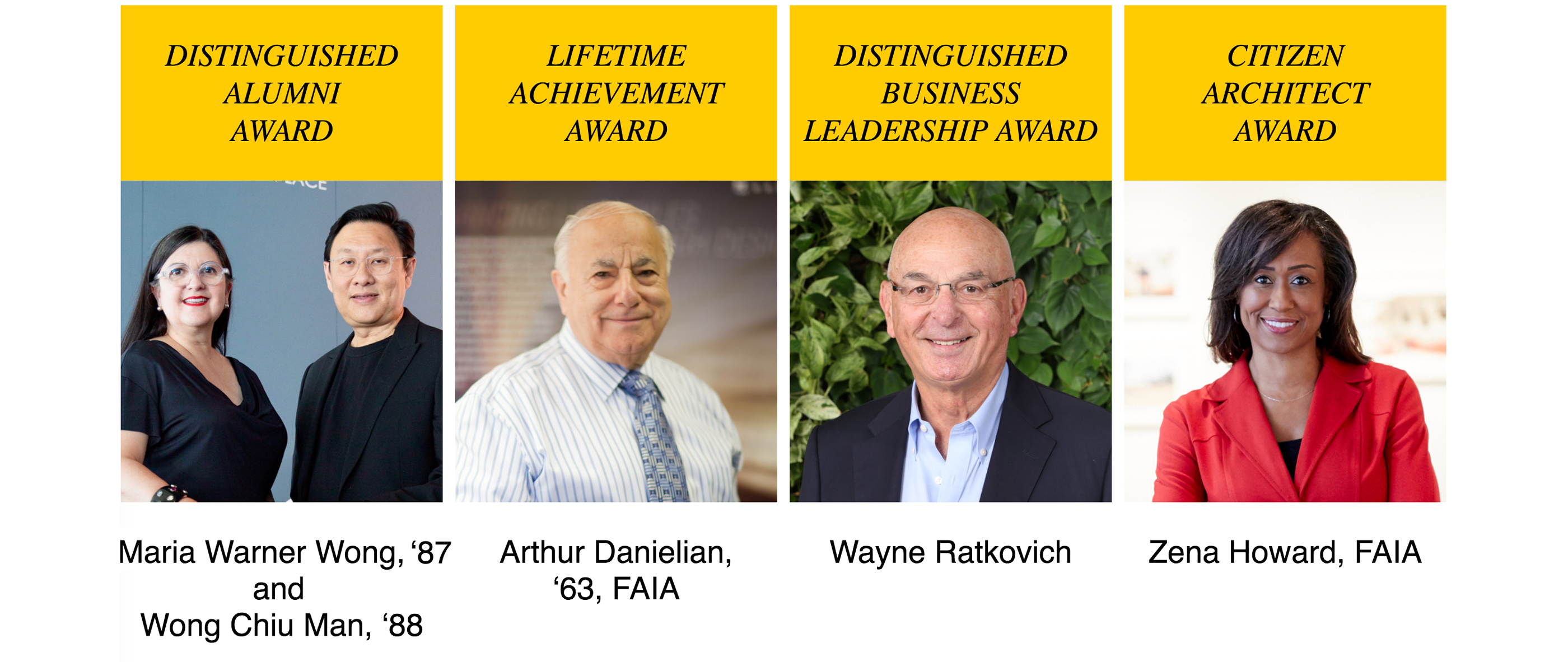 LATEST NEWS