12/18/18 USC Architectural Guild Design Charrette Announces 2019 Jury

2018 USC Architectural Guild Design Charrette Competition
The eighth annual USC Architectural Guild Design Charrette will return to the School of Architecture on Jan. 12, 2019, and this year's stakes are higher than ever. Students participating in the upcoming design competition will present their projects to a renowned jury comprised of:
Christopher Hawthorne, Chief Design Officer, City of Los Angeles;

David Martin, USC Architecture alumnus and founder of MADWORKSHOP;

Thom Mayne, USC Architecture alumnus and founding principal of Morphosis; and

Doris Sung, Associate Professor, USC School of Architecture; Founder/Architect, DOSU Studio Architecture.
The first-, second-, and third-place teams will be awarded $15,000, $10,000, and $5,000 in prize money, respectively, thanks to the Jack A. and Marilyn M. Zuber Charitable Trust. The 2019 design challenge will be announced in early January.
For more information on this year's competition, visit arch.usc.edu/architectural-guild-charrette.
ABOUT THE JURY
Christopher Hawthorne is the Chief Design Officer for the city of Los Angeles, a position appointed by Mayor Eric Garcetti. Prior to joining City Hall, he was architecture critic for the Los Angeles Times from 2004 to early 2018. With Alanna Stang, he is the author of "The Green House: New Directions in Sustainable Architecture" (Princeton Architectural Press). His writing has also appeared in the New York Times, the New Yorker, Slate, Architectural Record, Architecture, Harvard Design Magazine and many other publications. He is professor of the practice at Occidental College, where since 2015 he has directed the Third Los Angeles Project, a series of public conversations about architecture, urban planning, mobility and demographic change in Southern California. Hawthorne has also taught at U.C. Berkeley's Graduate School of Journalism, Columbia University and the Southern California Institute of Architecture. A frequent collaborator with KCET-TV in Los Angeles, he received an L.A.-area Emmy Award for the 2016 KCET program "Third L.A. with Architecture Critic Christopher Hawthorne" and wrote and directed the hour-long documentary "That Far Corner: Frank Lloyd Wright in Los Angeles," which had its broadcast debut earlier this year. His professional honors include a mid-career fellowship from the National Arts Journalism Program at Columbia University, the Bradford Williams Medal from the American Society of Landscape Architects and a Residency in Criticism at the American Academy in Rome. Hawthorne grew up in Berkeley and earned a bachelor's degree with honors from Yale, where he studied political science and architectural history.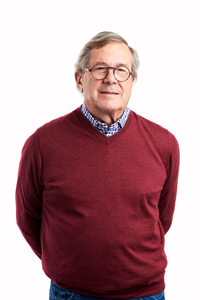 David C. Martin, FAIA, a third-generation architect, continues his family's legacy of major involvement in the architectural planning and civic life of Southern California. Martin received his Bachelor of Architecture from the University of Southern California (USC) and his Master of Architecture from Columbia University. David was Design Principal for AC Martin Partners, a 110-year old architecture firm founded by his grandfather and noted for its historic and contemporary landmark projects. During his tenure with AC Martin, David transformed neighborhoods, academic institutions, and cities. Martin's final project was the 80-story high-rise hotel and office complex in the heart of Downtown – the new Wilshire Grand Tower.
Martin is a member of the Dean's Advisory Council at USC, a past President of the Southern California Chapter of the AIA, and a former Board Member of the AIA California Council. He is currently on the Boards of the Los Angeles Conservancy, USC School of Architecture and the ArtCenter: College of Design in Pasadena. Martin is an award-winning designer that has been recognized for his innovative, inspirational, and cutting-edge projects. David, along with his business partner and cousin Christopher C. Martin, FAIA, have received the American Institute of Architecture (AIA), Los Angeles Chapter's Gold Medal of Honor, for their major contribution to the built environment in the City of Los Angeles. Currently, David along with his wife, Mary Klaus Martin, have established MADWORKSHOP, a foundation that endows innovative designers with the opportunity to freely explore their ideas from inspiration to reality.
Thom Mayne is founding principal of Morphosis, a global architecture firm engaged in architecture, urban planning, and research since 1972. Based in Los Angeles, New York, and Shanghai with projects world-wide, Morphosis' work represents a wide variety of scales and typologies, from civic projects, schools, and museums to commercial towers and city planning. In partnership with UCLA where he is a Distinguished Professor, Mayne also leads The Now Institute, a graduate studio dedicated to applying design thinking to real-world issues facing cities today. Fueled by the power of design-based thinking at all levels of education, Mayne also founded the Thom Mayne Young Architects program in 2015 to provide elementary school children at underperforming schools with an introduction to architecture that hones their problem-solving skills across all areas of their education. Mayne's distinguished honors include the Pritzker Prize (2005) and the American Institute of Architects Gold Medal (2013). He was appointed to the President's Committee on the Arts and Humanities in 2009. With Morphosis, Thom Mayne has been the recipient of 27 Progressive Architecture Awards, over 120 American Institute of Architecture Awards and numerous other design recognitions. The firm has been the subject of various group and solo exhibitions throughout the world, including a large solo exhibition at the Centre Pompidou in Paris in 2006. Morphosis buildings and projects have been published extensively; the firm has been the subject of 33 monographs.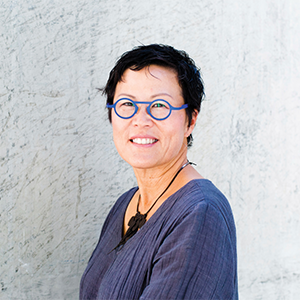 Doris Sung, is the Founder/Architect of DOSU Studio Architecture. After receiving her B.A. at Princeton University and M.Arch. at Columbia University, Doris Sung worked in various offices in cities across the U.S. before arriving in Los Angeles in 2001. She developed her research focus while teaching at University of Southern California (USC), the Southern California Institute of Architecture (SCI-Arc), University of Colorado and the Catholic University of America. In 1999, she opened her office, dO|Su Studio Architecture, and soon received many AIA and ASID awards for her work, including the prestigious accolades of AIA Young-Designer-of-the-Year, ACSA Faculty Design Award, R+D Honorable Mention from Architect Magazine and [next idea] award from ARS Electronica. Currently, she is working on developing smart thermobimetals and other shape-memory alloys, unfamiliar materials to architecture, as new materials for the "third" skin (the first is human flesh, the second clothing and the third architecture). Its ability to curl when heated allows the building skin to respond for purposes of sun-shading, self-ventilating, shape-changing and structure-prestressing. Her work has been funded by the national AIA Upjohn Initiative, Arnold W. Brunner Grant, Graham Foundation Grant, Architectural Guild Award and USC ASHSS and URAP Awards. Her TEDxUSC talk will be available online at the end of 2012.
Related Links: 8th Annual Design Charrette Event, Architectural Guild
LATEST NEWS