01/28/20 Design Charrette Challenges Students to Create Innovative Fire-Resilient Structures
On Saturday, Jan. 25, 2020, the USC Architectural Guild hosted its ninth annual Design Charrette, challenging fourth-year, fifth-year and graduate students from the USC School of Architecture to prepare design entries based on a specific prompt. This year's Charrette was a week-long challenge, giving students the opportunity to work in teams of three to create innovative solutions to complex urban design issues. Students then presented their proposals to a distinguished jury, which was comprised of:
Vince Bertoni, Director of Planning, City of Los Angeles
Mia Lehrer, FASLA, President, Studio-MLA
Geoffrey von Oeyen, Assistant Professor of Practice, USC School of Architecture
The first-place winners were Andrew Blumm, Alison Iwashita and William Izu. Second-place winners were Michael Gonzalez, Keith Tiu and Yashoda Godhani, while third place was awarded to James Crandall, Caleb Schweter, Hector Covarrubias del Cueto. The winning teams were awarded $10,000, $7,500 and $5,000, respectively.
This year marks a special occasion for the Charrette as it focuses on a natural disaster affecting the lives of many Californians, and more recently, the victims of Australia's devastating bushfires. Students were challenged to create a resilient prototype for a California hillside Fire Command Post that would also accommodate nature-loving residents outside of fire season. As wildfires have become an increasingly critical issue in the world and in the School's own backyard of Los Angeles, it is important for future architects to embrace changes needed to develop innovative, fire-resilient structures.
The first-place project, "Sentinel," proposed a new solution to fire-resilient structures that embraces the landscape and its mountain-adjacent architecture through strategic forest management. "Sentinel" shifts the perspective away from destructive fire prevention tactics to create an innovative and adaptable structure. It is a contemporary adaptation of the fire lookout tower typology, and features a moving visitor center on a rail system over Brown Mountain Truck Trail near the L.A. suburb of Altadena. The structure retreats to an enclosure within the hillside in the event of a fire. When the area is clear of wildfire conditions, the trellis frames views of the surrounding land and city, offering unique access to landscape and architecture in an uninhibited forum.
The building serves as a site for education and research about fire-resilient vegetation and forest management techniques. For visitors, a meandering path winds around a botanical exhibition of Southern California-native and fire-resilient plants. For researchers, the garden's outermost layer is densely populated with local vegetation meant for exploring reduced wildfire risk through controlled burn processes. By studying the rate of plant regeneration, observing the complexities affecting the local chaparral, and determining best practices for prescribed fires, the site becomes a tool for rehabilitating our relationship to the landscape and its tendency to burn.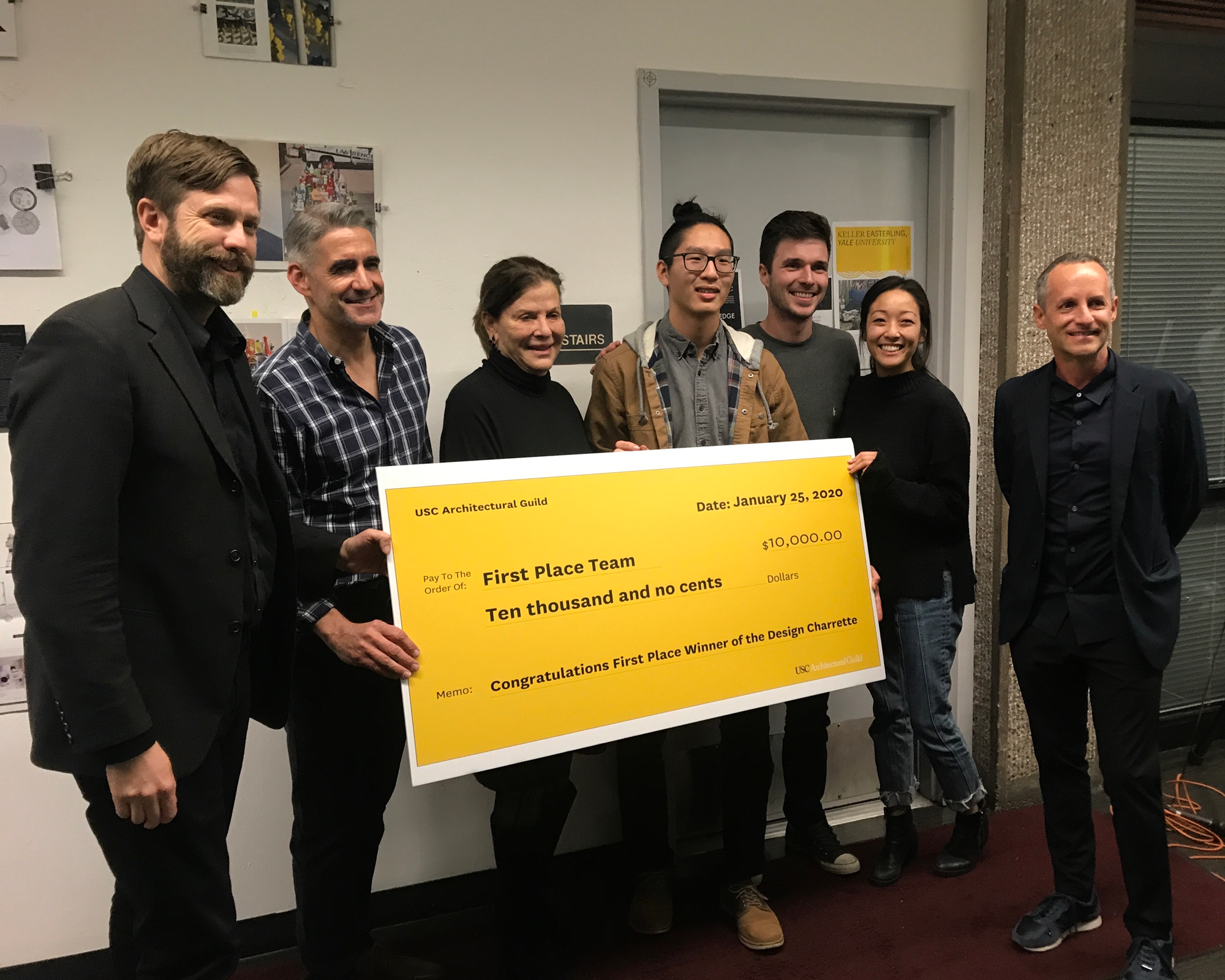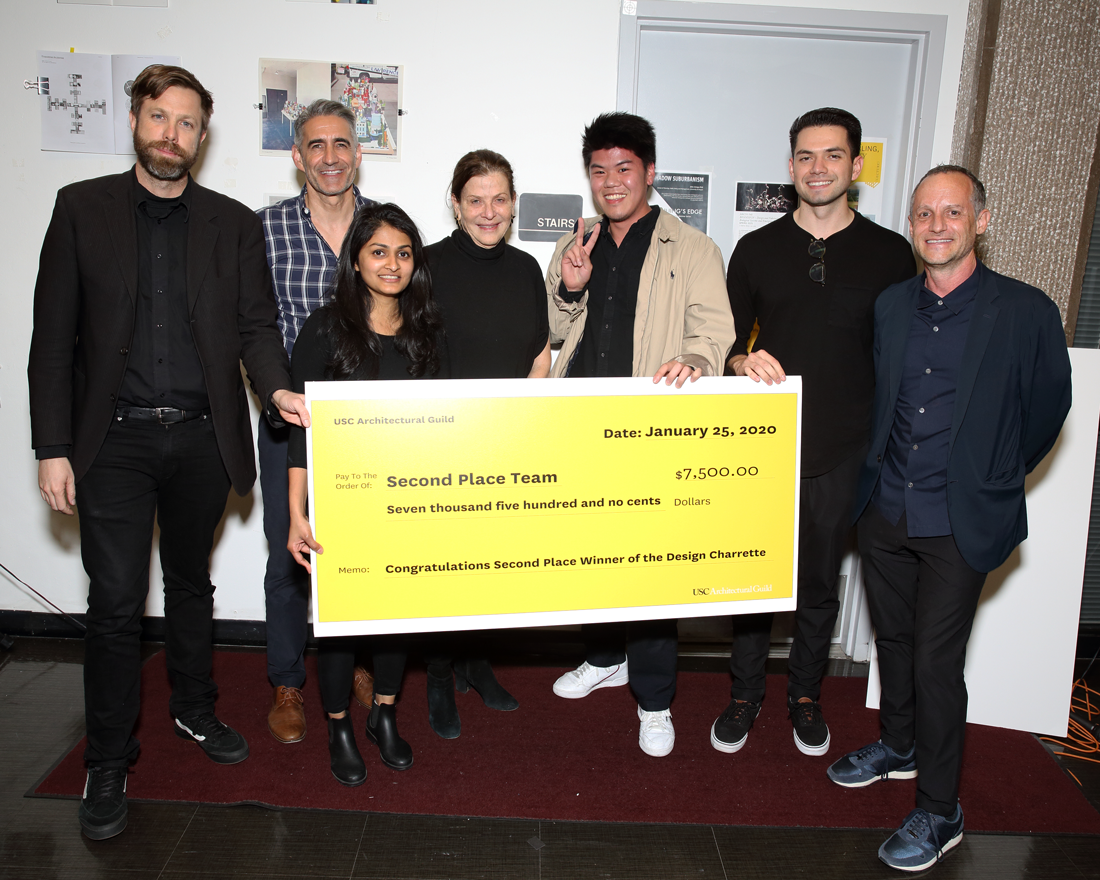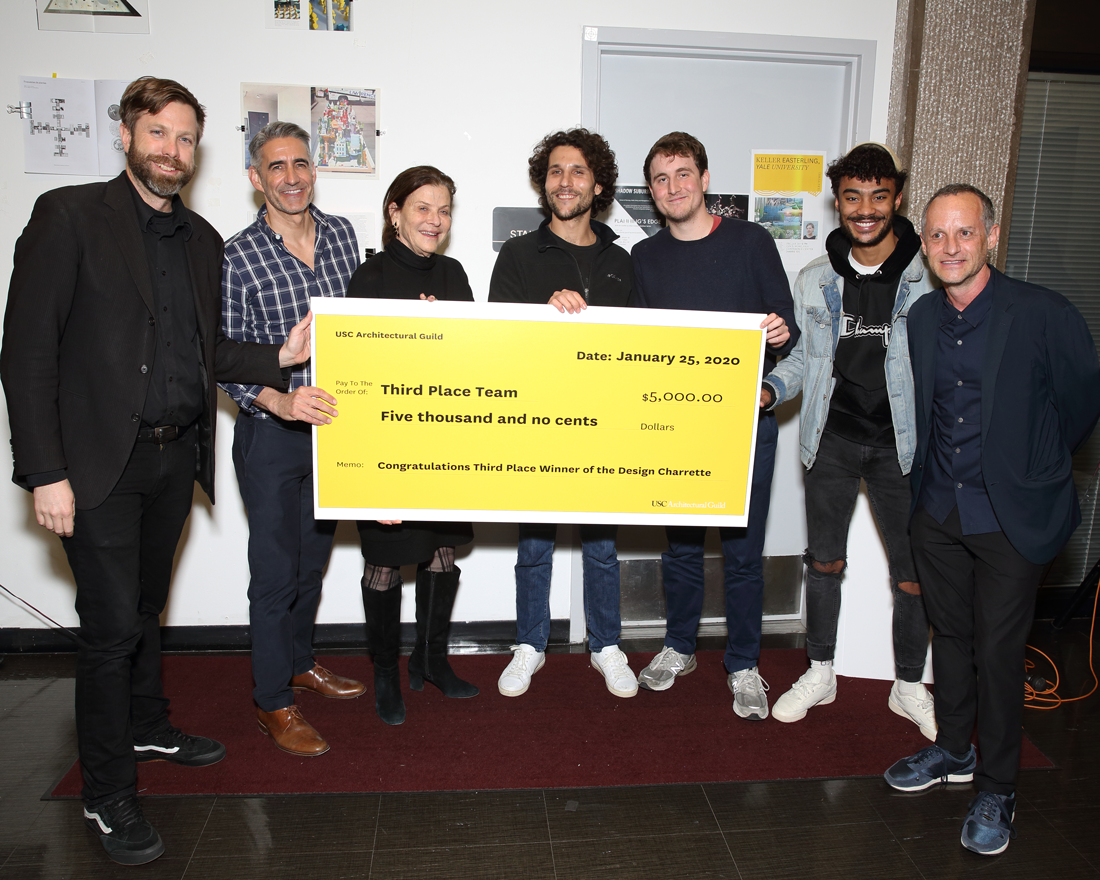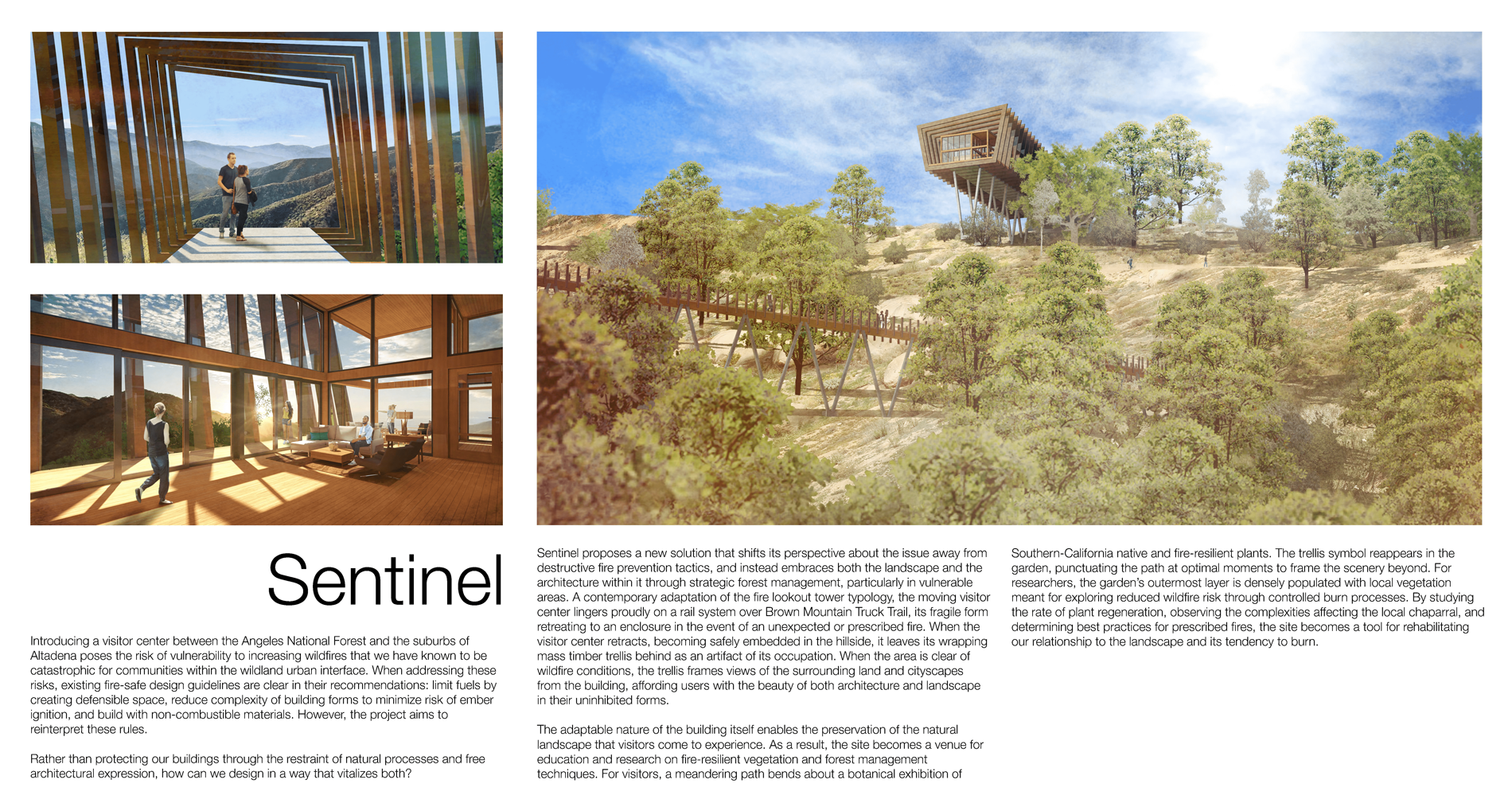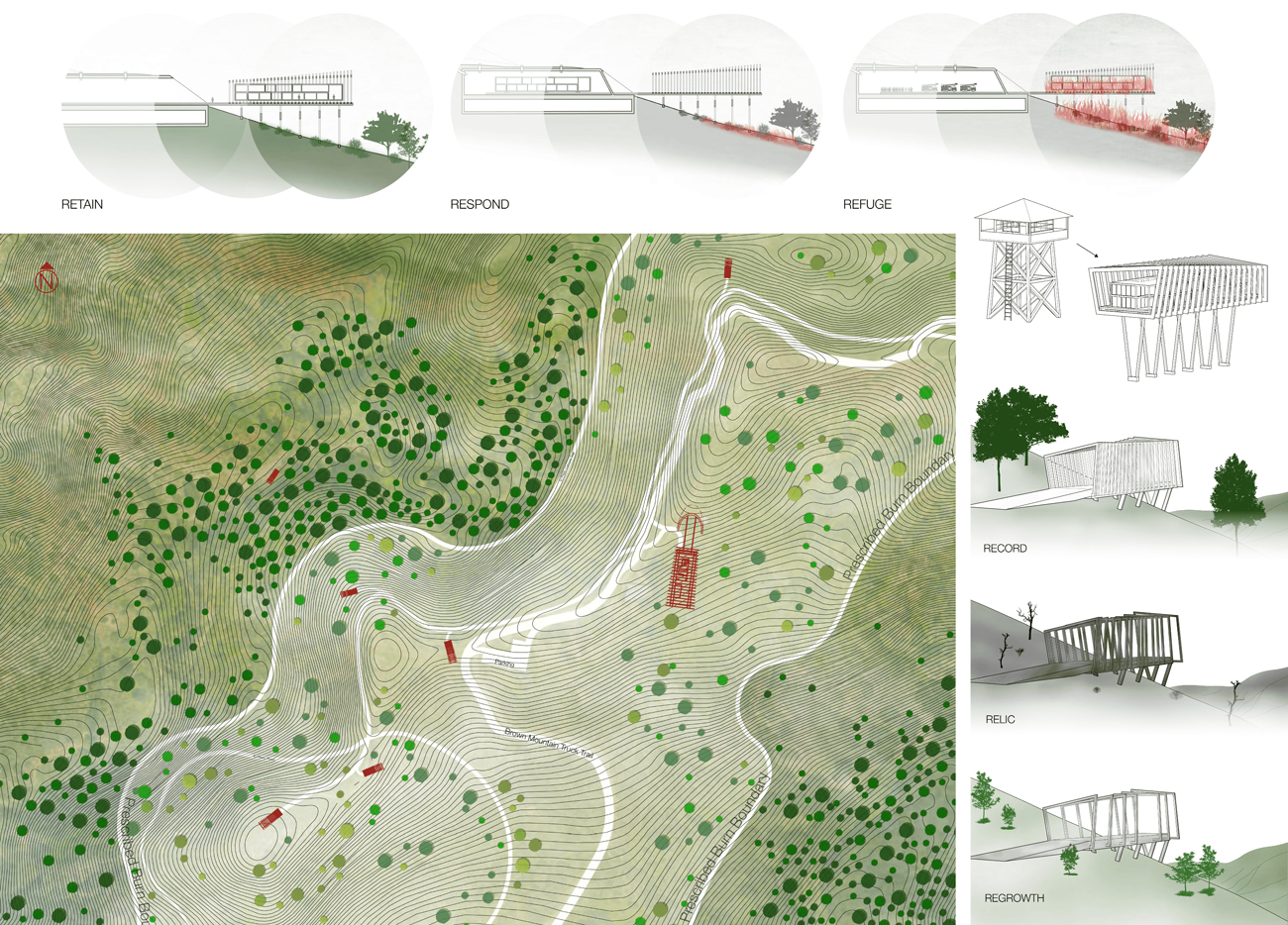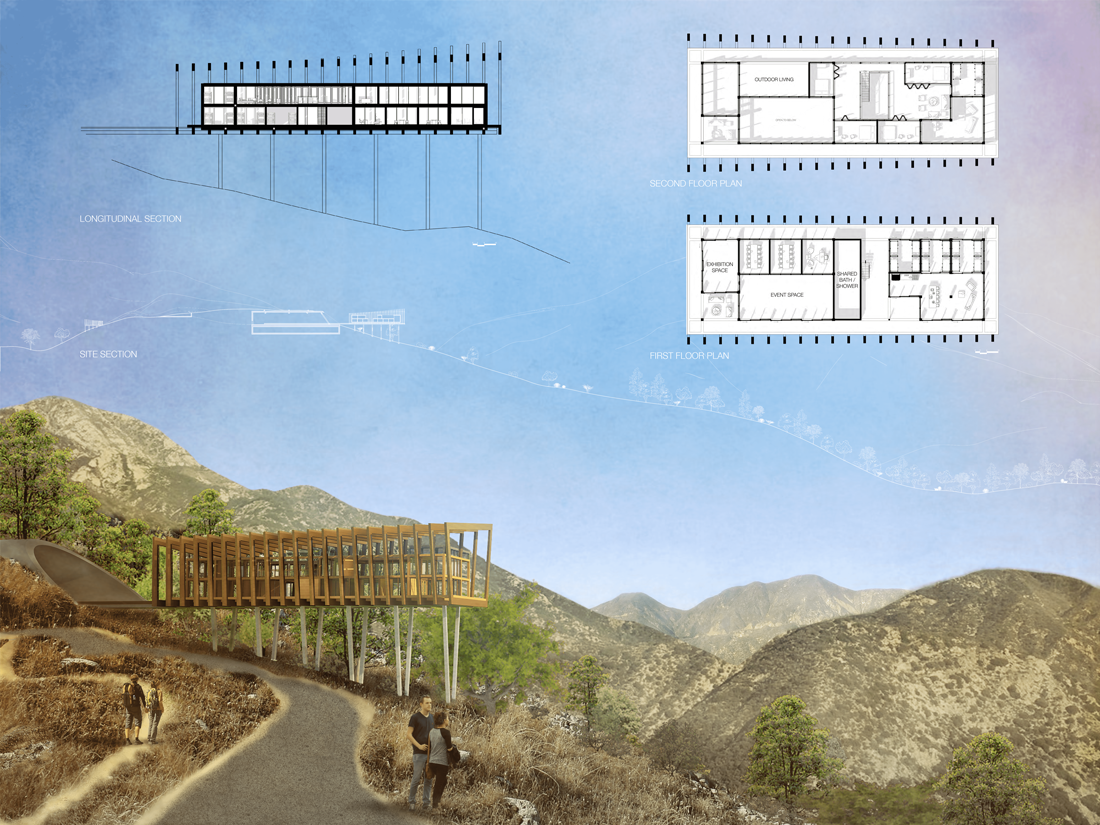 Latest News