11/01/19 AALU Students Explore Green Brutalism through Future Cities Laboratory
USC Architecture students are studying sustainable building elements in Singapore this semester through a unique partnership with the Future Cities Laboratory (FCL), a joint venture between ETH Zurich and Singapore's National Research Foundation. The lab, founded in 2010 to tackle urbanization challenges for Singapore and the ASEAN+ region, explores how scholars and practitioners in Singapore and Switzerland can better understand and incorporate global sustainable practices. Throughout the fall semester, USC students participating in the School's Asian Architecture and Landscape Urbanism (AALU) global studies program learn from ETH Zurich Ph.D. students and work on a project that examines architecture in the context of how it impacts–or is impacted by–urban culture.
"The engagement of ETH Zurich FCL as a place to conduct design research is valuable because students become aware of and are educated in sustainable design practice in Singapore, which is the primary focus of the research being conducted at FCL," explained Yo-ichiro Hakomori, USC Architecture professor and coordinator of the AALU and FCL collaboration. "I believe that is very important in the education of young architects."
This semester's workshop is titled Green Brutalism: The Retrofit of Existing Infrastructure and Buildings in Singapore to Implement Environmental and Programmatic Properties of Dense and Green Urbanism. After traveling from Beijing to Singapore, students gather in groups to visit important sites throughout the city that are critical to the study of urbanism. Stops include Golden Mile Tower, Pearl Bank Apartments, People's Park Complex, and Shaw Tower Apartments. After thoroughly researching these sites, students discuss how sustainable elements of the buildings could be improved and how they conform to Singapore's sustainability standards. This initial project is a basis for each group's final concept on Dense and Green urban design and intervention. At the culmination of the workshop, students present their final projects to faculty from USC Architecture and the Future Cities Lab, who provide feedback and engage in discussion with the students about their work.
While the Green Brutalism project is the program's most recent, the AALU and Future Cities Lab collaboration began in 2018. In its inaugural year, USC Architecture students analyzed architectural examples that incorporated greenery on and around city buildings. Singapore's governmental guidelines, defined by the Landscaping for Urban Spaces and High-Rises (LUSH) program, require all new architectural projects to incorporate "green" to help compensate for new construction's environmental impact. Learning from practitioners and scholars in Singapore, one of the most innovative countries in the world for sustainable architecture, showed students how to create beautiful, functional, and green structures for urban environments, an essential lesson for designing and planning the cities of tomorrow.
"Working with FCL was truly inspiring," recounted B.Arch student Jeffery Cheung, who participated in last year's AALU program. "Several Ph.D. candidates presented their research projects to our class. Each of them was tackling critical architectural and global issues and finding innovative solutions using incredibly advanced techniques. It was an amazing experience to be able to engage with them and develop our own proposals to contribute to the discourse on urbanism."
To learn more about the AALU program and other global study opportunities at the USC School of Architecture, click here.
Related Links: USC Architecture Global Opportunities, Future Cities Laboratory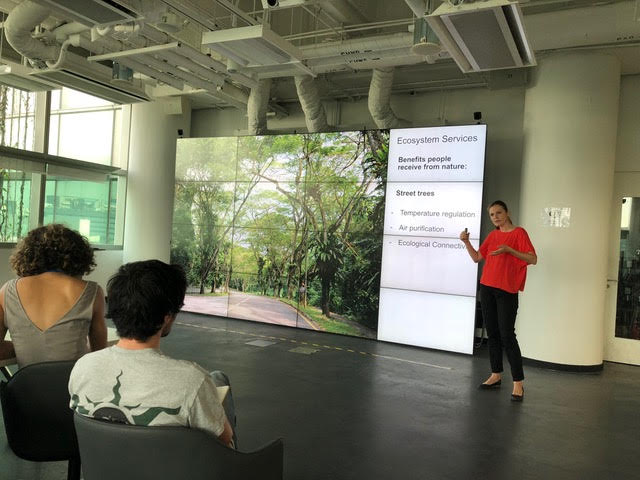 Latest News