The USC School of Architecture offers multiple study abroad opportunities created to coincide with our specific architecture curriculum. Offerings change periodically in order to better meet the needs of the students and align with the mission of the school's global initiatives.
During their time at USC Architecture, students may take advantage of semester-long undergraduate study abroad programs, graduate level overseas workshops – through institutions such as the USC American Academy in China – and occasional international and domestic travel opportunities as part of class research and field studies. The School has incorporated exciting travel components into its curriculum to enhance opportunities for global knowledge exchange while keeping students on their academic track.
Other opportunities available to School of Architecture students include traveling fellowships, humanitarian and research traveling opportunities through architecture affiliated student organizations, and international and domestic internships.
Read the Global Studies Blog
Study Abroad
The USC School of Architecture's study abroad programs provide currently enrolled students with interests in global architectural and urban study opportunities to extend the boundaries of their academic engagement beyond the USC campus. Students develop an understanding of the relationship between the built environment and culture that serves to build a broader, more thoughtful, critical framework for their own work. They can compare the development of architecture and urbanism in Europe, Asia, Latin America, or other travel locations with that of the United States.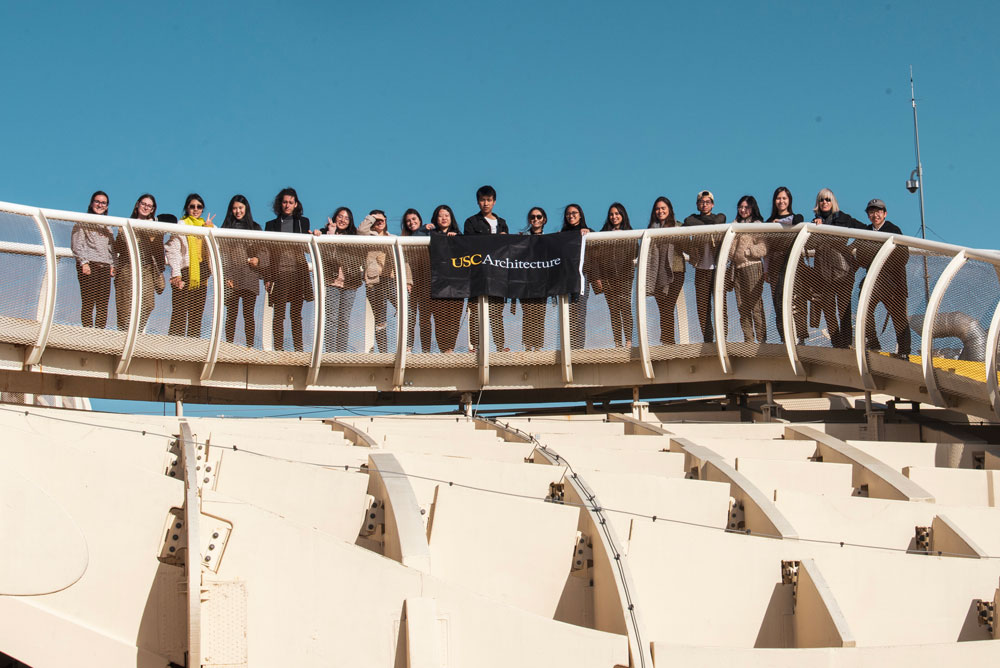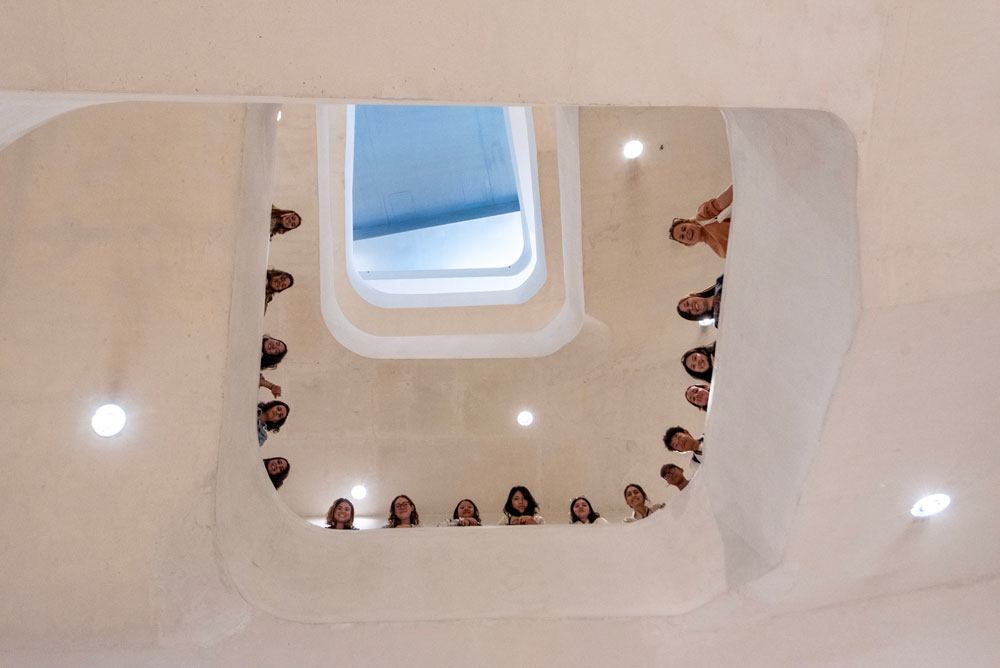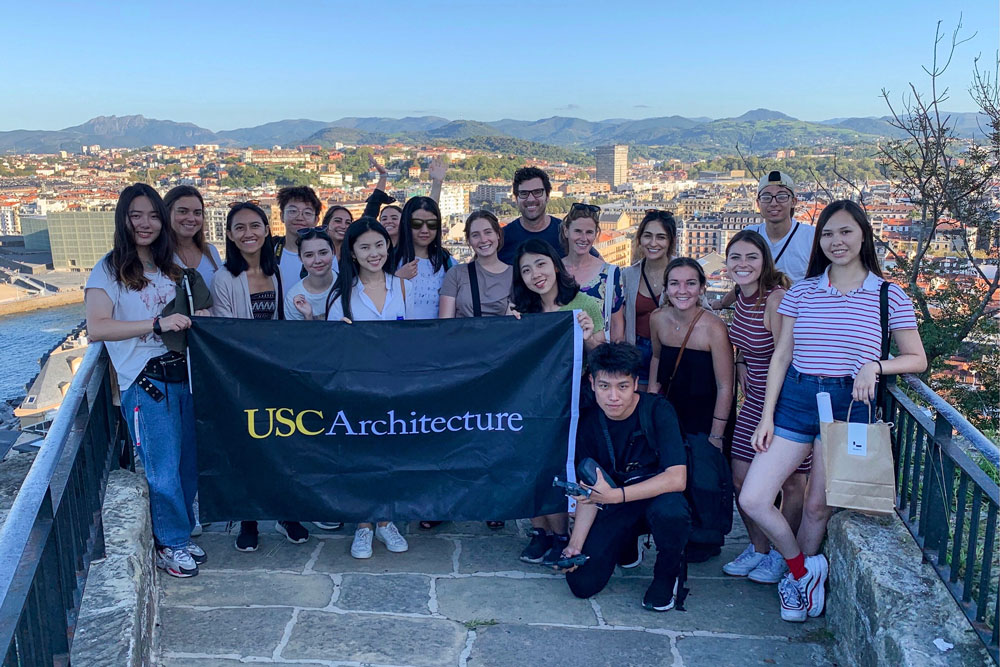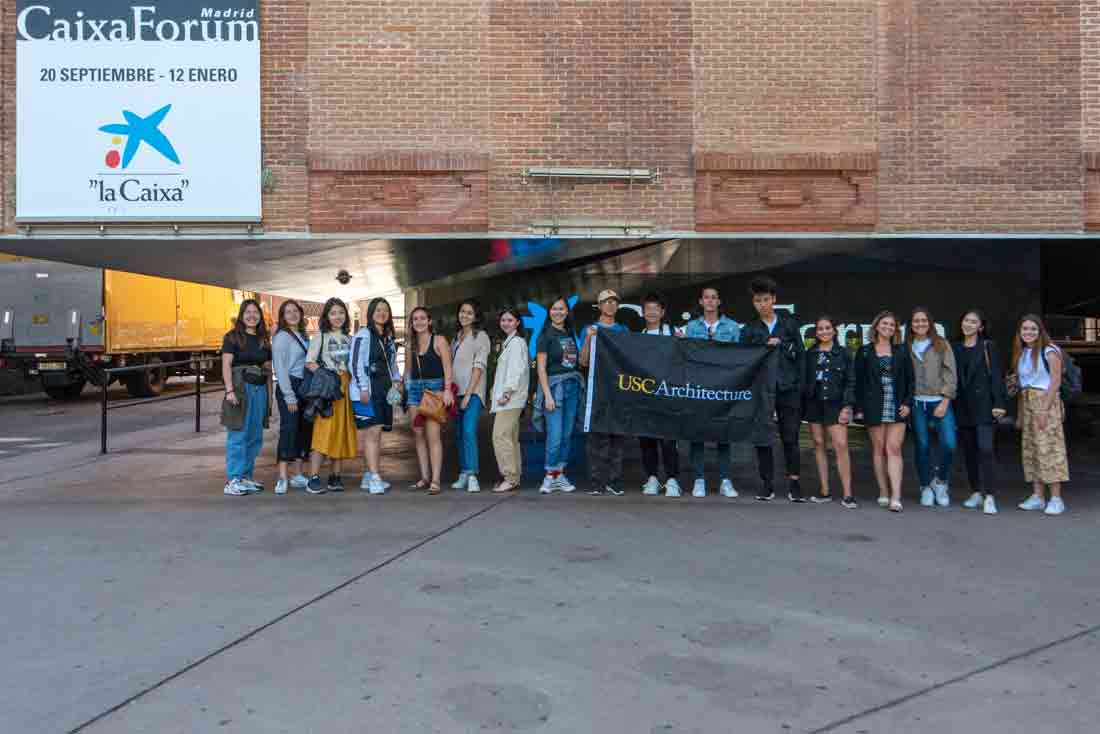 FALL PROGRAM: BARCELONA, SPAIN [UNDERGRADUATE]
The semester-long global program in Barcelona immerses students in the issues of urban design and architecture that have shaped the city. Participants will develop critical thinking and methodologies of analysis by designing in the urban context. Barcelona is a model of cultural activity and an impressive locus for new architecture, landscape architecture and urban design. Examples of public space and architecture from antiquity to the 21st century are studied in the context of a city that seeks to project its future in dialogue with engaging its past and present. The course of study examines a culture committed to design and to architectural practices that engage and challenge traditional and modernist orthodoxies.
FALL PROGRAM: ASIAN ARCHITECTURE AND LANDSCAPE URBANISM (AALU) / EASTERN ASIA [UNDERGRADUATE]
The AALU program anchors in two countries, Japan and China, and is based in two important cities in both of these countries. Students will spend the first part of the program in Japan and the second part in China. Participating students will engage in the translative working forces of urbanism, landscape, and architecture to mediate the spectrum between universal civilization and the indigenous particularities of place, society and culture. To enrich the learning process, students of the AALU program will also interface with a number of local universities in the form of joint workshops, forums, and lectures over the course of the semester.
SPRING PROGRAM: ANTHONY A. MARNELL, II, ITALIAN ARCHITECTURE STUDIES PROGRAM (MILAN/ROME/COMO) - (MXP)
[UNDERGRADUATE]
Italy has epitomized the role of architecture and design throughout its history. The Anthony A. Marnell, II, Italian Architecture Studies Program (MXP) investigates the history, culture and form of Italian architecture and urbanism from the Romans to the present. Field studies and the design studio both begin in Rome, with a study/analysis of the layers of ancient, Medieval, Renaissance, Novecento and current architecture in the city, and a design workshop with faculty and students from the University of Roma Tre. During the semester, other travel in Italy includes Florence, with its exceptional Renaissance architecture, and the Veneto region: Vicenza and Venice, to study urban form of Italy along with works of Andrea Palladio, Carlo Scarpa and modern rationalist: Terragni. Field studies to Switzerland, France and Austria examine architecture and design in countries whose recent connections to northern Italy are increasingly important to Italy's design direction for the future. A retreat in Como and Milan focuses more on Italia Rationalism and Radicalism as well and contemporary production in Milan, a very active metropolis.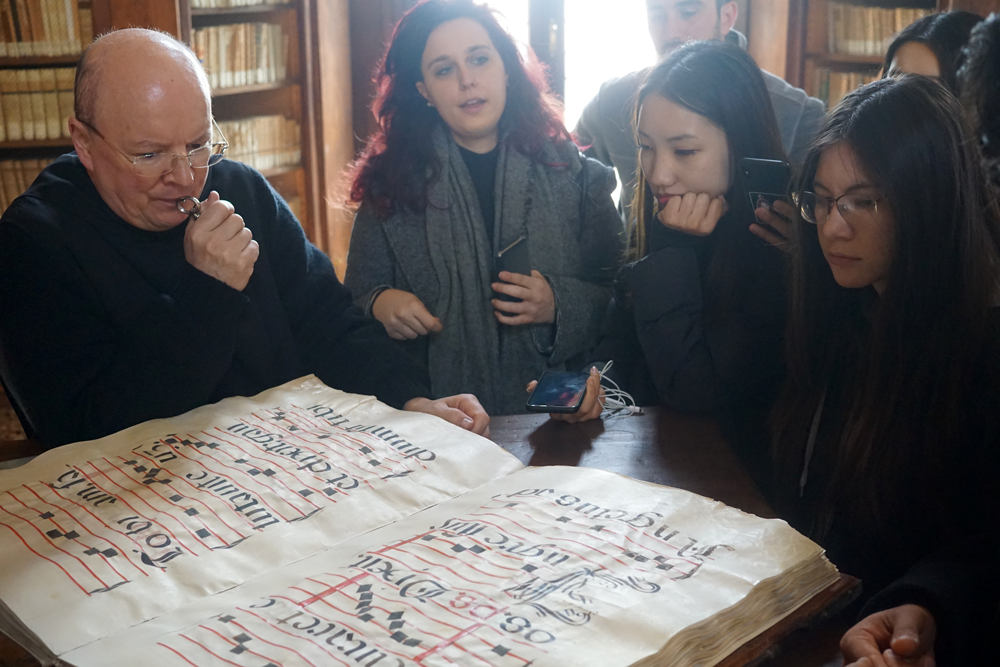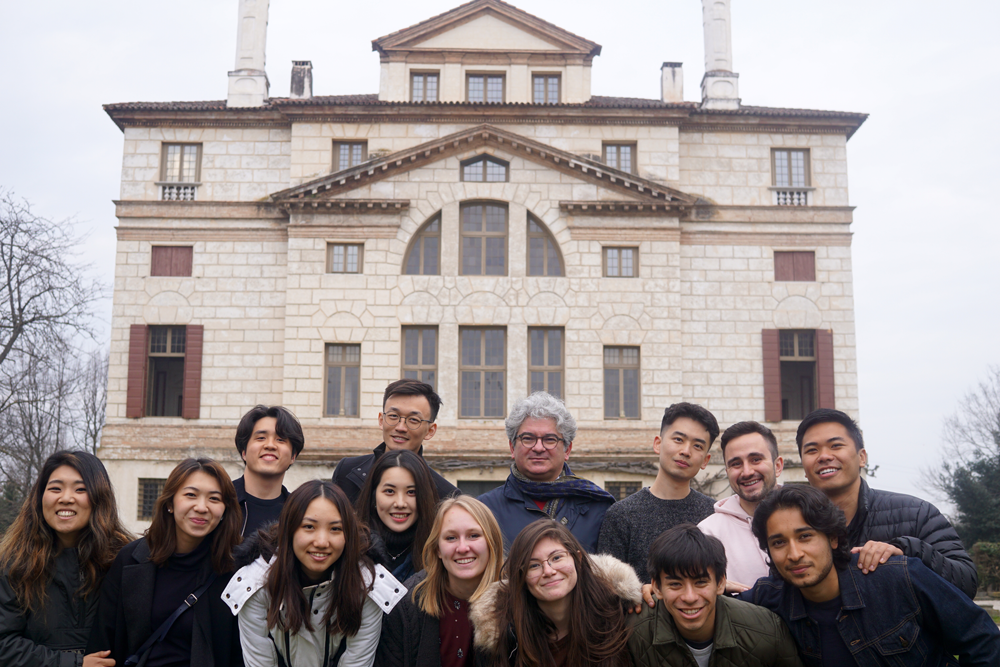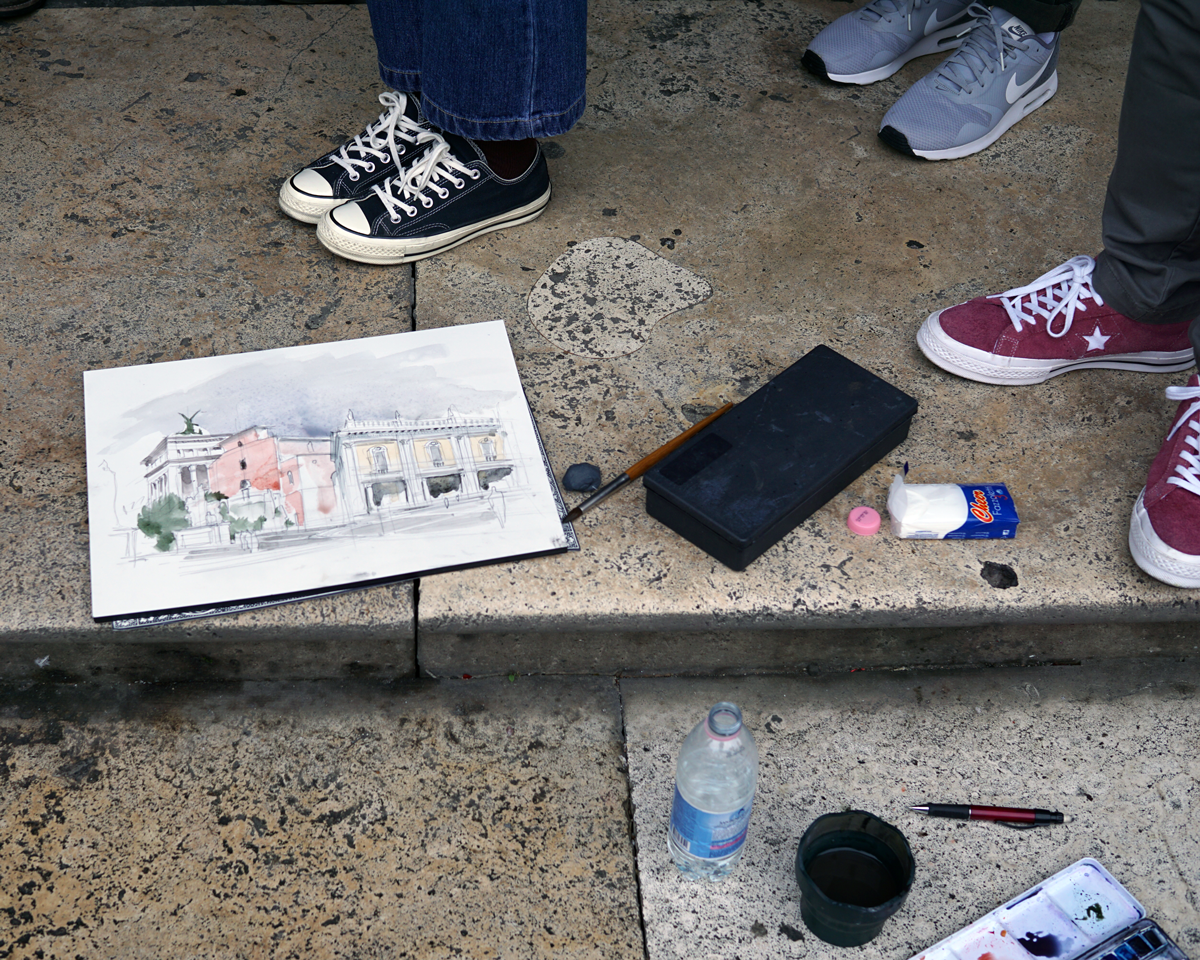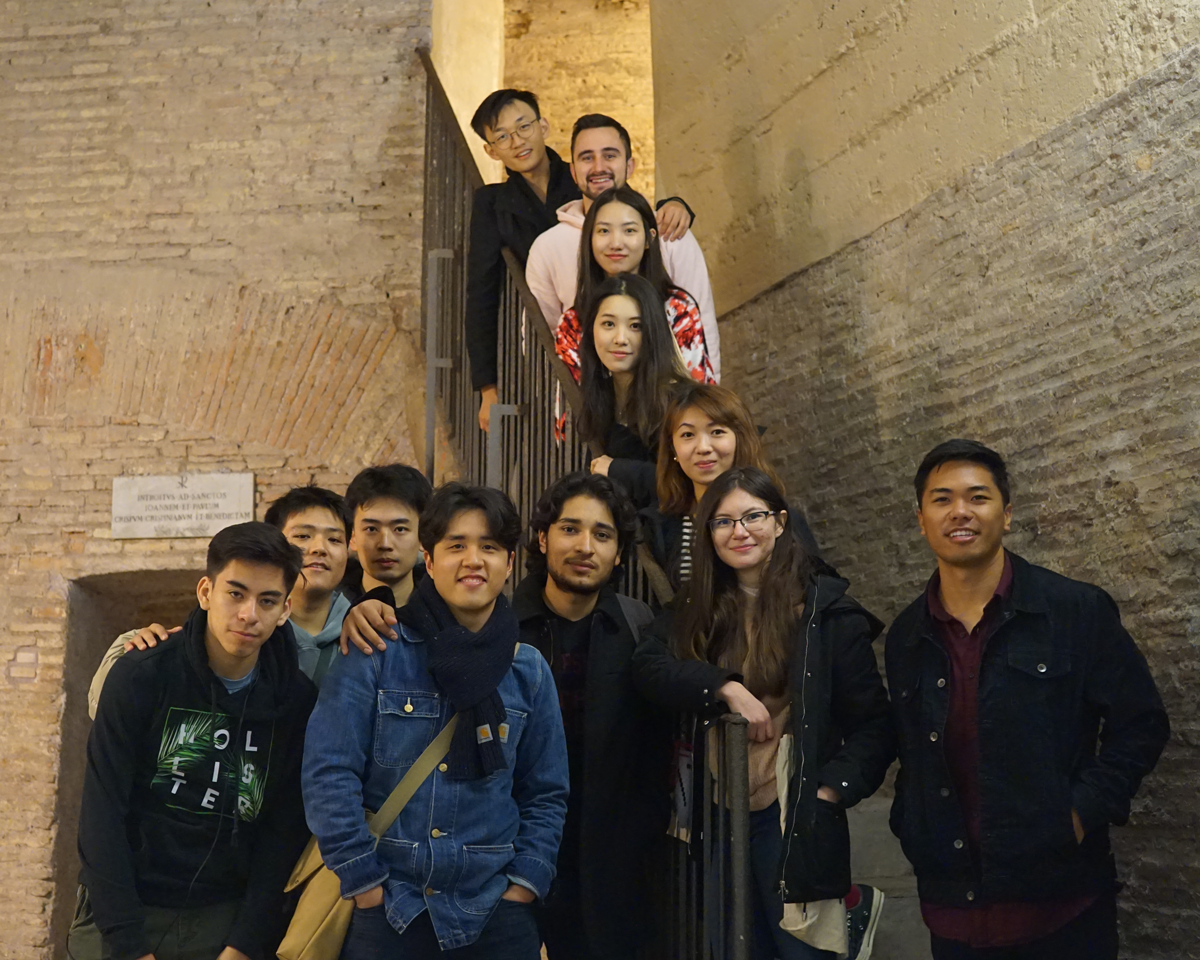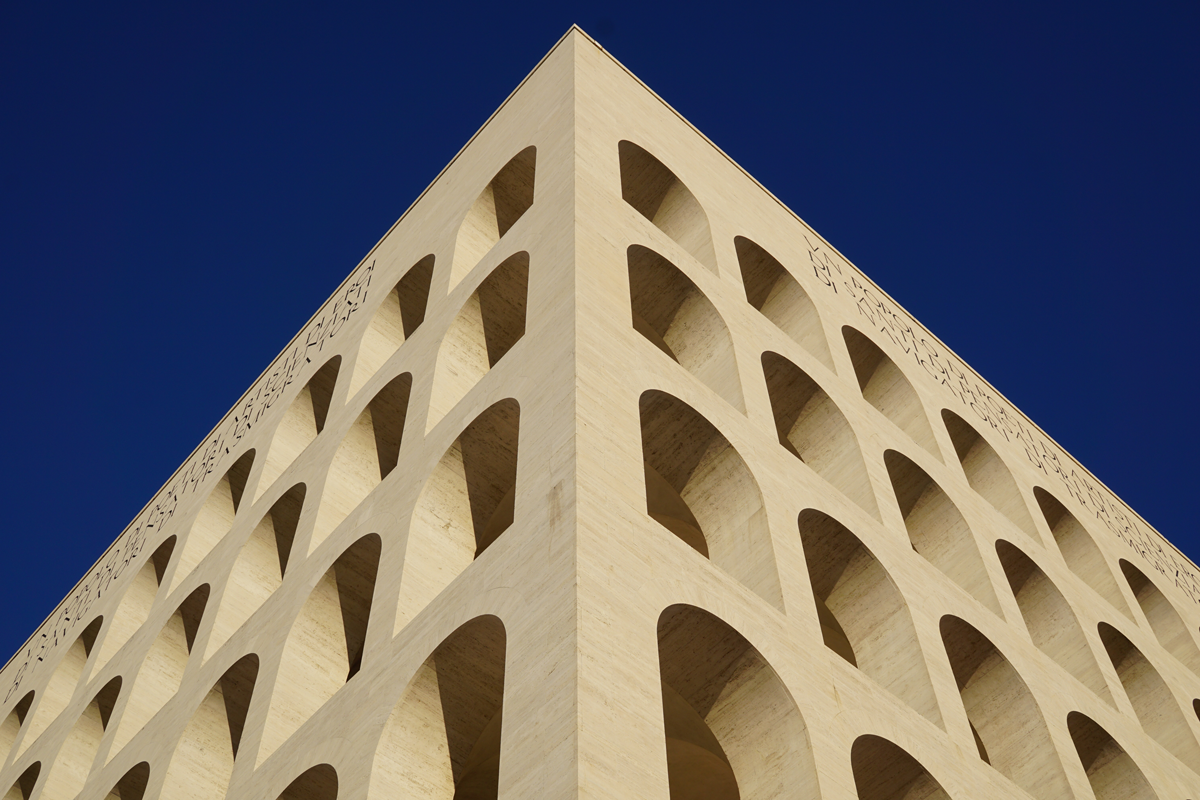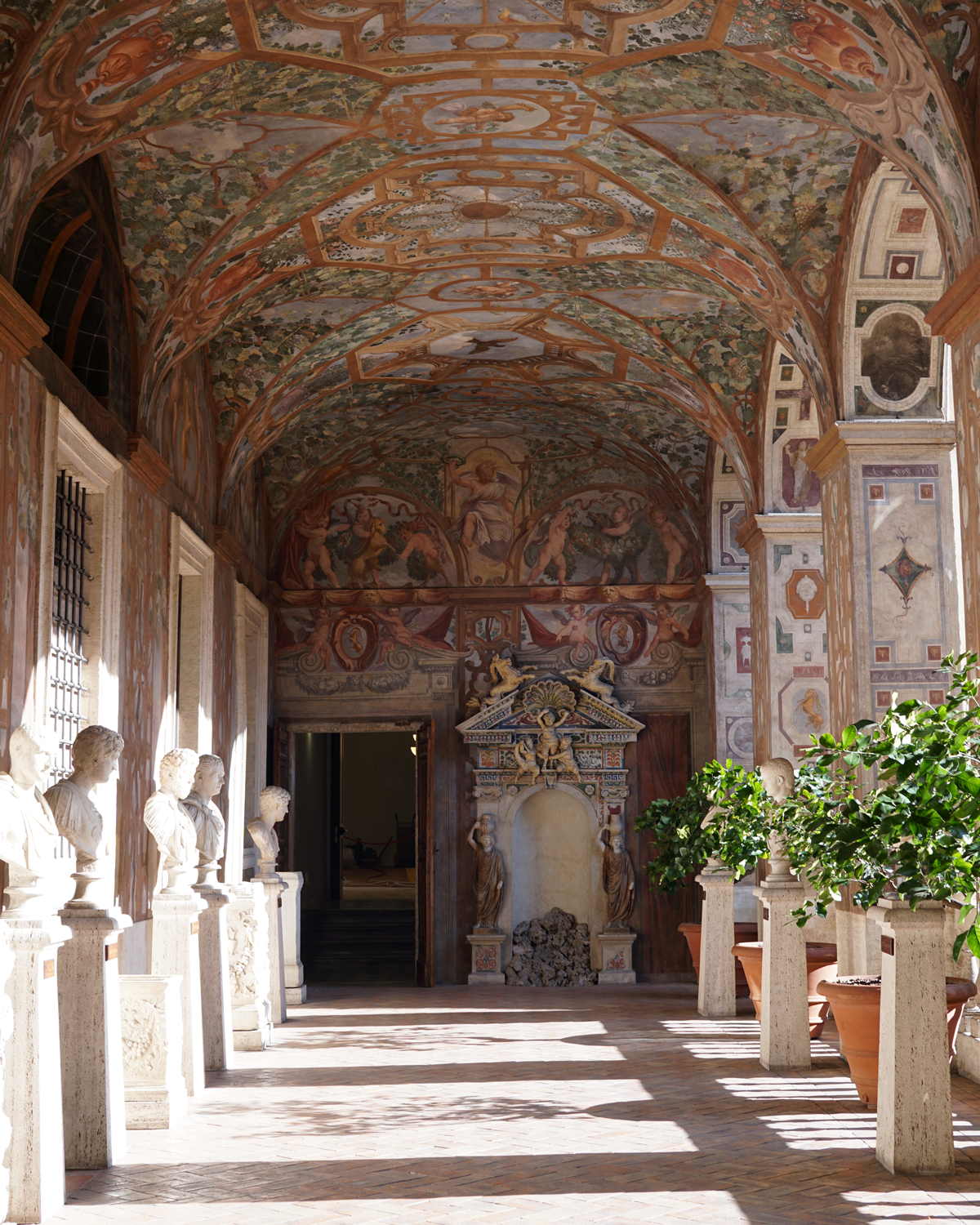 SUMMER GRADUATE STUDY ABROAD PROGRAM (GSAP) in PARIS, France
Paris, to an extent shared by few other places, tells its history through its architecture. The palette runs from Roman (and even pre-Roman) times to today's contemporary examples. For many years the city has been layering its urban planning, its arts, and its architectural materialization: everything we see is ready to tell us stories about peace and war, commerce and culture, ideas and inventions, stability and change. This course will require a multifaceted understanding of a designer's relationship with history and space. It is almost a police investigation: discovering the facts of the city but understanding its motivations too. In Paris, architecture is unquestionably linked to urbanism, technology, and ideology. Your search to discover and comprehend these links will add dimension to your education as an architect.
FIELD STUDIES in JAPAN [GRADUATE]
For the Western imagination, Japan is a place that's both alluring and enigmatic yet frequently misunderstood. Two cultures: one characterized by stillness, contemplative silence, aesthetic tranquility, an affinity for nature and nuances of seasonal change—the rock garden at Ryoanji or viewing the cherry-blossoms in Aoyama. The other by flux —a perpetual motion machine constantly moving and changing, chaotic, dense, artificial and hyperreal—the neon-glow of Akihabara or pulse of Shibuya Crossing. Tradition and modernity, nature and culture, stillness and flux, clearly, Japan is a study in juxtapositions and contrasts. Yet, while these differences are evident in daily life, incongruous and extreme at times, Japanese culture and society is more complicated (and bewildering at times) than this, replete with nuances that require close scrutiny and reflection. And, while first impressions and sound bites are tempting, even revealing at times, the intent of this course is to probe beneath the surface like a forensic scientist, not only to identify differences but to uncover continuities, discontinuities and ambiguities that foster a deeper awareness, appreciation and understanding of the unique nature of the cultural sensibility of this island nation.
Traveling Fellowships
Traveling Fellowships provide undergraduate and graduate students opportunities to further their global knowledge base. A number of Traveling Fellowships are available for students to receive funding for travel-based research projects. Being selected as a traveling fellow can be a life-changing journey and a truly enriching part of the academic experience at USC Architecture. Travel research is expected to occur the summer after the fellowship has been awarded (except where noted otherwise).
Avi Efraim Gesundheit Traveling Fellowship
The Avi Efraim Gesundheit Traveling Fellowship provides financial support to a third-year student in the School of Architecture to travel for research purposes as part of his/her architectural studies. The traveling fellowship endowment remembers and honors the life of Avi Efraim Gesundheit (1978-1996), a second-generation Trojan enrolled in the USC School of Architecture class of 2001.
The Gesundheit Family / USC Architectural Guild Graduate Traveling Fellowship and The Jaime and Susan Gesundheit Graduate Travel FellowshipS
The Gesundheit Family / USC Architectural Guild Graduate Traveling Fellowship and The Jaime and Susan Gesundheit Graduate Travel Fellowship provide financial support to a graduate student in the USC School of Architecture to travel as part of his/her studies.
THE PATRICK MARTIN MEMORIAL TRAVELING FELLOWSHIP
The Patrick Martin Memorial Traveling Fellowship provides financial support for an undergraduate student in the USC School of Architecture Italy and Barcelona programs during their third or fourth year, to travel for research purposes at the conclusion of or parallel to their time abroad. Preference for students enrolled in either Barcelona or Italy programs (but not required), who wish to continue their travels in Europe and the Middle East to research and contrast Italian design and architecture (historic or modern) with other architectural design in countries elsewhere. It is required that at least 50% of total time is focused on Italian architectural, design, and culture heritage in Italy.
This endowment remembers and honors the life of Patrick M. Martin (1976-2012), a third-generation Trojan graduate, USC School of Architecture class of 2000.
Chase L. Leavitt Traveling Fellowship
Established by USC Architecture alumnus Chase Leavitt (B.Arch 1967) in 2000, this endowment provides annual funds to be given to a fourth- or fifth-year student for travel and study outside of the United States.
George H. Mayr Traveling Fellowship
In memory of the noted philanthropist, this endowment provides annual funds to be given to a fourth- or fifth-year student for travel and study.
Jon Adams Jerde Traveling Fellowship
Established by the Jerde Family and the USC Architectural Guild in honor of Jon Jerde (B.Arch 1964), the fellowship commemorates his experience as one of the first USC Architectural Guild Traveling Fellowship recipients. This endowment provides annual funds to a fourth- or fifth-year student for travel and study outside the United States.
William and Neoma Timme Traveling Fellowship
An endowed traveling fellowship established by Robert H. Timme, FAIA, FAAR, architect, scholar and Dean of the USC School of Architecture from 1996-2005 in recognition of his parents, William and Neoma Timme. The endowment is supported by the USC Architectural Guild and provides annual funds for a student or students in the School to study gardens and urban settings. The award may be made to either undergraduate or graduate students in any program at the School.