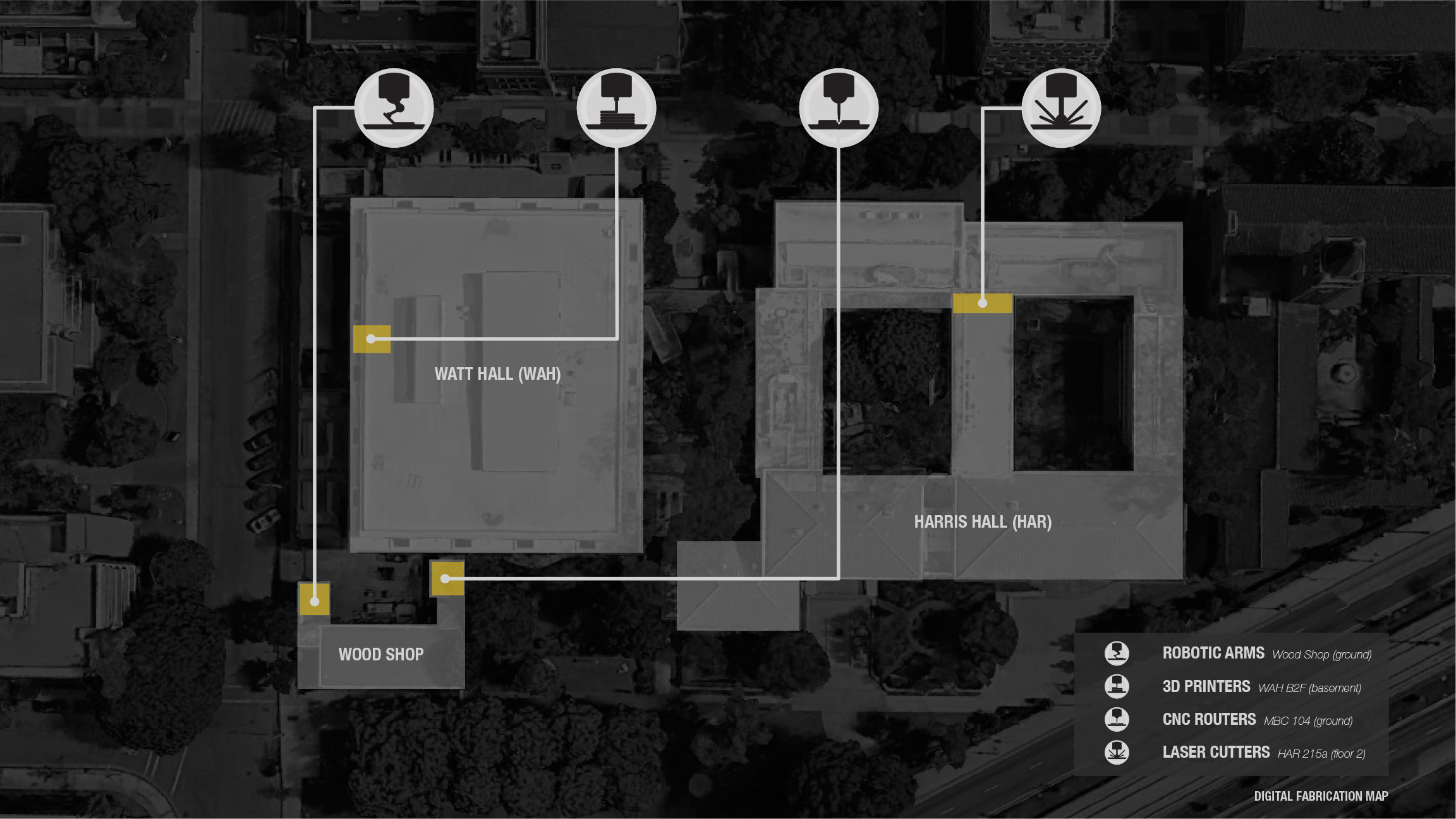 LASER CUT LAB PROCEDURES
FUNDS
Machine time = 20/hr. USCard only.
SIGN-IN
Arrive on time and sign in with the Work Study. Lab located in HAR 215a.
FILE
Load file via USB or email. Open in Adobe Illustrator, Rhino, Autocad.
Print Procedures
Line Weight
Line weight should be set to hairline thickness.
COLORS
Check that colors are set to RGB.
PRINT
Send file to print.
MATERIALS
Choose the correct materials in Preferences.
UCP
Open UCP software (Blue Lasers).
TEST CUT
Do a small test cut.
POST-PRINT PROCEDURES
ATTENTION
Do not leave the laser cutter unattended (RISK OF FIRE).
CLEAN
Clean laser cutter and surrounding area.
USB
Close files and remove USB.
SIGN-OUT
Check out with Work Study and pay.
CNC Milling
PREPARATION
MATERIAL
Prepare material, see material list & instructions.
CHECKLIST
FILE
Place object in DefaultCncFile.3dm at 0,0,0.
DIMENSION
Max dimension of 4' x 8' x 5" height.
WALLS
No vertical walls exceeding 1.5" on 3D milling.
SITE MODEL
For site models, no objects closer than .51".
DRAFT
Draft angle of 5° is beneficial for milling, molds, and vacuum forming.
SURFACE
Place surface for 3d milling on "surfaces to mill" layer.
COUNTOUR
Place curves for contour cuts and pockets on "contour cut" layer.
POINTS
Place points for drilling on "points" layer.
MATERIAL
Create outline of the material in "material" layer.
SAVE
Save .3dm file as FirstnameLastname_Class#_Ver#.
SUBMIT FILE
Submit file via email to uscarchcnc@gmail.com. Specify material.
CONFIRMATION
Expect an email response and reply with approval of price. $25 / hour.
PICK UP
Pick up model in MBC 104 (wood shop). General turn around time of one week.
3D Printing
FILE PREPARATION
ISOLATE
Delete all other objects.
CENTER
Move object to 0,0,0.
VOLUME
Use Volume command to check if object is closed.
CLOSE
To close, use commands: Cap, Join, Patch, PlanarSRF or EdgeSRF.
FACES
Set a different back face color. Check for Reversed Normals.
EDGES
Use ShowEdge command to ensure there are no naked edges.
UNITS
Make sure file is in inches.
DIMENSIONS
Check the model dimensions with the Distance command.
SCALE
Maximum dimensions / ABS : 8" x 8" x 6" Powder : 15" x 10" x 8".
THICKNESS
Minimum thickness / Powder : 0.06" ABS : 0.04".
EXPORT
Export as .STL FirstnameLastname_Class#_Ver# (set mesh tolerance to .0001).
OPEN
Open .stl file and double check that the file is ready for print.
SUBMIT FILE
Submit file in person or via email to usc3dp@gmail.com (Specify Powder or ABS).
CONFIRMATION
Expect an email response. Reply with approval of price. $10 / cubic inch.
PICK UP
Pick up model in WAH B2 (basement). General turn around time of a week or less.